Profile XT Certification Program – March 2017

5 Steps to Become a Charismatic Leader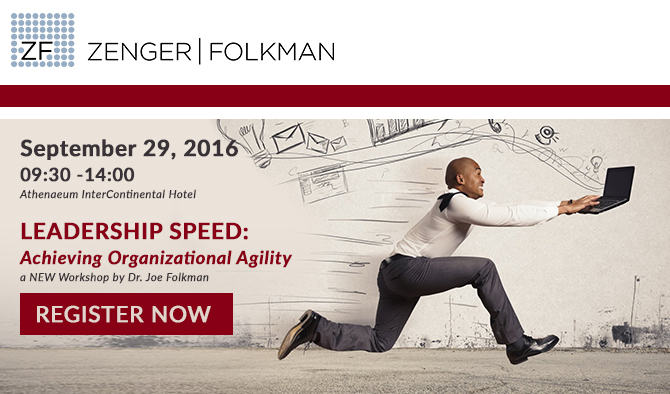 LEADERSHIP SPEED
Achieving Organizational Agility
Business is moving faster and faster, and to keep up, leaders at all levels need to know how to pick up the pace. As the demand for quantity goes up, the demand for quality doesn't go down. Leaders need a new way to approach these twin demands that gives them the ability to improve both of these capabilities. Cross – training, or non – linear development, is that approach
Dr. JOE FOLKMAN will be in Athens ONLY for one Open Workshop. Grab this unique opportunity now!
Thursday morning will kick – off with Dr. Joe Folkman! Co-founder of Zenger Folkman, thought leader, author and world expert in the field of leadership development, he' ll be sharing Zenger Folkman's latest research results on helping leaders at all levels increasing organizational agility through Leadership Speed.
The common definition of speed is to act or move quickly. But simply moving faster doesn't make leaders more effective. This workshop helps you to identify ways to improve both speed and the ability to get things done right.
By participating you will:
Learn how speed and quality impact your effectiveness as a leader
Learn the companion behaviors that enable cross – training and improvement in leadership speed
Complete a self – assessment about pace
Receive your pace results report
Use the cross – training approach to create your individualized development plan
Discover tools and concepts that help you as a leader increase both your speed and the speed of your teams
Joseph Folkman, Ph.D.
President and Co-Founder of Zenger Folkman
Joe Folkman is co-founder and president of Zenger Folkman, a firm that utilizes evidence-driven, strength-based methods to improve organizations and the people within them. He is a respected authority on assessment and change, and an acclaimed keynote speaker at conferences and seminars the world over. His topics focus on a variety of subjects related to leadership development, feedback, and individual and organizational change. As one of the nation's renowned psychometricians, Joe's extensive expertise focuses on survey research and change management. He has more than 30 years of experience, consulting with some of the world's most prestigious and successful organizations. His unique measurement tools are designed utilizing a database comprised of more than a half million assessments on nearly 50,000 leaders. Because these tools specifically address critical business results, facilitating development and change is the main focus of measurement efforts. Joe is a regular contributor to Forbes and the Harvard Business Review Blog Forum. His research has received placement in several top-tier media sources, including The Wall Street Journal's National Business Employment Weekly, CNBC News, Business Week, Harvard Business Review, Chief Learning Officer, The Washington Post, The Huffington Post, Training and Development Magazine, and Executive Excellence. A distinguished expert in the field of survey design and data analysis, Joe consults with organizations large and small, public and private. His clients include: AT&T, General Motors, Boeing, ConocoPhillips, CIBC, General Mills, Hunt Consolidated, Koch Industries, Marathon Oil, Nortel, Fidelity, First American, Reed-Elsevier, Safeway, Thomson Reuters, US Navy, UCSD, Wells Fargo and Weyerhaeuser. Prior to forming Zenger Folkman, Joe was a founding partner of Novations Group, Inc., where he led the employee survey and 360-degree assessment practices. Joe holds a doctorate in social and organizational psychology, as well as a master's degree in organizational behavior from Brigham Young University. He is the author or co-author of seven books: How to Be Exceptional ( McGraw-Hill 2012),The Inspiring Leader: Unlocking the Secrets of How Extraordinary Leaders Motivate (McGraw-Hill 2009), The Power of Feedback (Wiley 2006),The Handbook for Leaders (McGraw-Hill 2004), the best-selling Extraordinary Leader: Turning Good Managers into Great Leaders (McGraw-Hill, 2002), Employee Surveys that Make a Difference (Executive Excellence 1998), Making Feedback Work (Executive Excellence 1998), and Turning Feedback Into Change (Executive Excellence 1996). Joe and his family reside at the base of the Wasatch Mountains in Orem, Utah.
LEADERSHIP SPEED: Achieving Organizational Agility
September 29, 2016 | 09:30-14:00 Athenaeum InterContinental Hotel
Individual: €180
Over 3 participants: 12% discount
Fees include
Certificate of Attendance signed by Dr. Folkman,
PACE Self – Assessment,
PACE results Report,
Individual Development Plan,
Workbook,
Take – away Reinforcement Material,
Breakfast & Light Lunch
Cancellation Policy
Cancellations more than 10 calendar days before the event – 50% of the fee is charged. Cancelations received less than 10 calendar days before: 100% of the fee is charged.

*The workshop will be taught in English.
Limited to those working in organizations, not for independent practitioners or coaches.
Subscribe