6 Ways To Coach Your Sales Team to the Top

Employee Commitment and Customer Satisfaction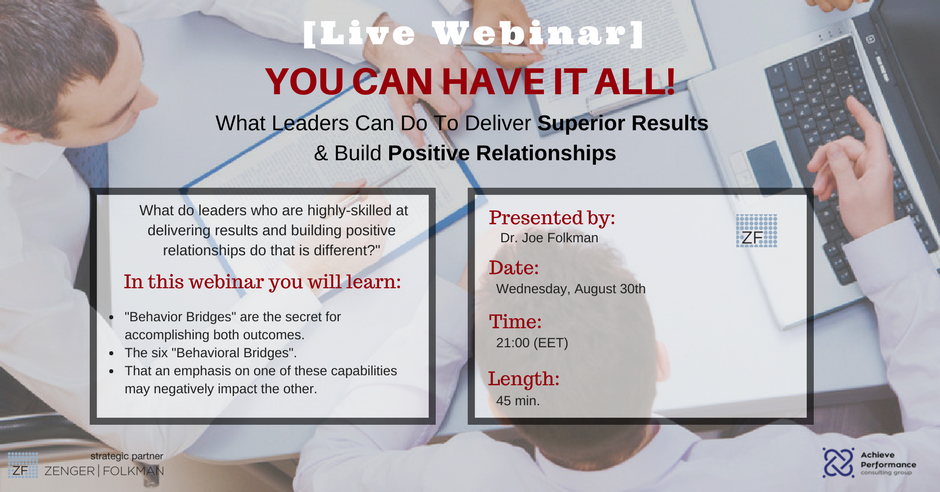 YOU CAN HAVE IT ALL! —

What Leaders Can Do To Deliver Superior Results and Build Positive Relationships

Description:
Several months ago a client in London asked: "What is the secret? What do leaders who are highly-skilled at delivering results and building positive relationships do that is different?"
To find the answer, we analyzed our expansive database and discovered six "behavioral bridges" that differentiated these leaders. (A behavioral bridge is a capability that enables leaders to achieve both results and positive relationships.)
The frustration for many leaders is that an emphasis on one of these capabilities may negatively impact the other. For example: when leaders push too hard to deliver superior results, it can negatively impact their relationships with team members. Other leaders attempt to build a positive team environment, only to find that projects lag behind schedule and results suffer. These "behavior bridges" are the secret to skills that accomplish both outcomes.
Join Dr. Joe Folkman as he shares his exciting research findings and reveals these powerful behavioral bridges!
Presented by:
Dr. Joe Folkman
Date:
Wednesday, August 30th
Time:
21:00
Length:
45 min
Download the Related
Infographic
and read the Related
article
If you missed the Webinar...
Subscribe