Bold Leaders: Reviewing The Gender Gap In Employee Engagement
I recently spoke at a large conference where the attendees had a variety of sessions to choose from. When asked why they had chosen to attend a presentation on Bold Leadership, four different women mentioned they had come to the session because they had received feedback that they were "too bold."
Is Being Bold A Good Thing?
Zenger Folkman's research indicates that bold leaders are perceived as being significantly more effective than those who lack boldness. In analyzing more than 60,000 leaders, we learned that those who were rated in the bottom 10% on their ability to act boldly were at the 8th percentile in their overall leadership effectiveness, and had only a 5% change of being given a high potential rating. Conversely, leaders rated in the top 10% on boldness were at the 93rd percentile, and had a 36% change of being ranked in this prestigious category. By all indications, bold leadership is a valued leadership trait.
The next question was if direct reports like working for a bold leader, and if so, does that employee engagement differ if the leader is a man or a woman. My colleague Jack Zenger and I analyzed results from more than 32,000 male leaders and 16,000 female leaders. The graph below shows that employee engagement does increase substantially as leaders become bolder; however, that trend is slightly lower for women than for men. While the differences are small, they are significant for each level of boldness (excepting the bottom 10%).
Fig. 1, The Impact of Boldness on Employee Engagement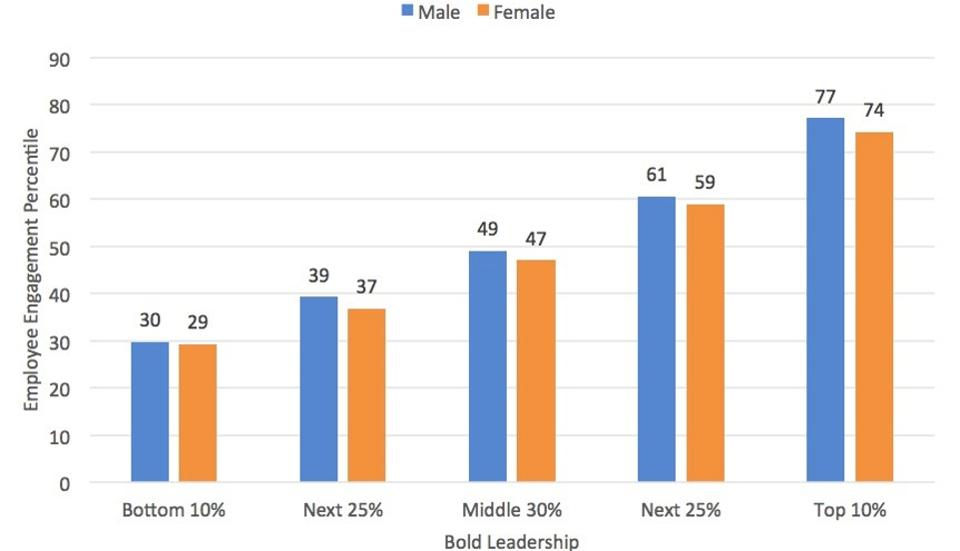 Bold Women And Employee Engagement
When considering the graph above, it appears that gender does matter to a small degree. However, reducing a female leader's bold leadership below the top 10% would reduce the engagement of her direct reports by 16 points! It is apparent that bold leadership has a substantially higher influence on engagement than the gender of the leader.
What causes this reduction in engagement when a leader is female? Many people have assumed that direct reports may be more comfortable with men displaying bold behaviors than woman, due to ingrained cultural norms. After analyzing the data, we have a theory of our own.
Read more here.
Source: Forbes