Redefining Performance Management PART 1 – 3

The Truth About Workplace Fun and Productivity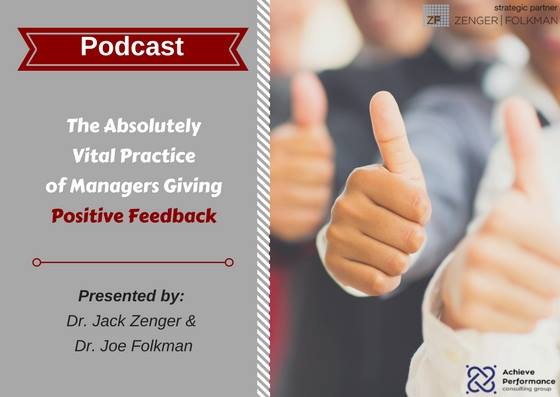 The Absolutely Vital Practice of Managers Giving Positive Feedback
Groundbreaking new research shows that most managers have some mistaken beliefs about the best kind of feedback to give their subordinates. Many favor giving negative or corrective feedback, believing that it does more good and has a lasting effect.
More than 1/3 of leaders avoid giving positive feedback, apparently believing that it doesn't do that much good. They agree that it is easier to give, but still they avoid giving compliments and kudos to subordinates and colleagues.
Perhaps it starts with the perception that the really good managers are the tough graders, who are not afraid to tell people what's wrong. Possibly they believe that giving people positive feedback will encourage a subordinate to let up or coast. Maybe they are emulating their prior bosses who gave little praise, but who pointed out any mistakes or weaknesses. Some may believe it a sign of weakness to praise subordinates. Finally, unfortunately, maybe many leaders just don't know how to do it.
However, recent research exposes many vital reasons why positive feedback is extremely important and should not be neglected. Data analysis provides some surprising, and counter-intuitive data. Join Jack and Joe as they reveal the exciting findings of this recent study!
Listen
the
Podcast
here
.
Subscribe