March 2017 – The Absolutely Vital Practice of Managers Giving Positive Feedback

3 Ways To Use Your Workforce Data To Improve Safety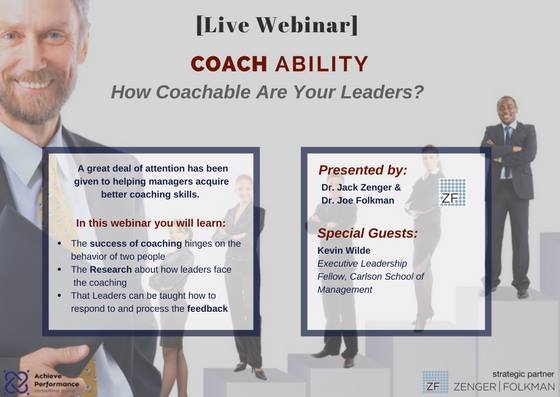 COACHABILITY: How Coachable Are Your Leaders?
Description:
A great deal of attention has been given to helping managers acquire better coaching skills. Organizations have earnestly sought to create a feedback-rich, coaching culture. However, are we forgetting or ignoring an important element of success in this endeavor? Learning to ask for feedback is an extremely valuable practice for leaders to routinely use. Leaders can also be taught how to respond to and process that feedback, and do it in a way that keeps the flow of feedback coming.

Presented by: Dr. Jack Zenger and Dr. Joe Folkman
Special Guest: Kevin Wilde, Executive Leadership Fellow, Carlson School of Management
Date: Wednesday, April 26, 2017
Time: 21:00 EET
Length: 45 min

If you missed the Webinar...
Subscribe