February 2017 – Redefining Performance Management

April 2017 – CoachAbility: How Coachable Are Your Leaders?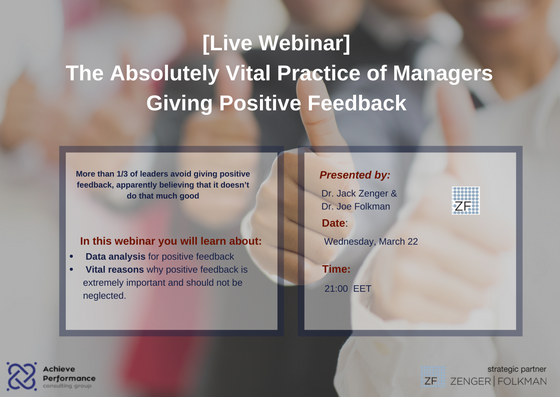 The Absolutely Vital Practice of Managers Giving Positive Feedback
Description:
Groundbreaking new research shows that most managers have some mistaken beliefs about the best kind of feedback to give their subordinates. Many favor giving negative or corrective feedback, believing that it does more good and has a lasting effect. This recent research exposes many vital reasons why positive feedback is extremely important and should not be neglected. Data analysis provides some surprising, and counter-intuitive data. Join Jack and Joe as they reveal the exciting findings of this recent study!

Presented by: Dr. Jack Zenger and Dr. Joe Folkman
Date: Wednesday, March 22, 2017
Time: 21:00 EET
Length: 45 min

If you missed the Webinar...
Subscribe