What It Takes To Be A Creative Superstar Leader

March 2017 – The Absolutely Vital Practice of Managers Giving Positive Feedback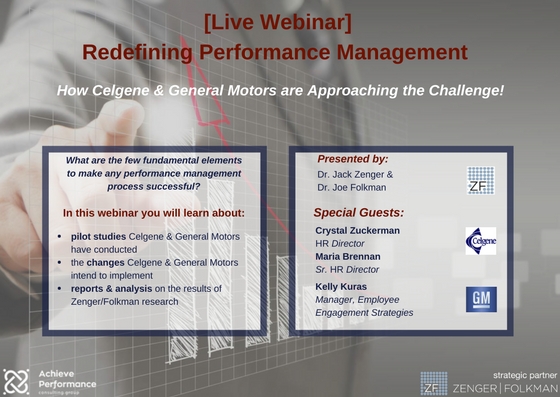 Redefining Performance Management
How Celgene and General Motors are Approaching the Challenge
Description:
In the last year many clients have taken a serious look at their performance management systems. Ask any manager or employee about their opinion of the performance review process and you will rarely hear any positive comments.

Presented by: Dr. Jack Zenger and Dr. Joe Folkman
Special Guests: Crystal Zuckerman & Maria Brennan from Celgene, and Kelly Kuras from General Motors
Date: Wednesday, February 22, 2017
Time: 21:00 EET
Length: 45 min

If you missed the Webinar...
Subscribe